Global Pigments Market Outlook to 2022: Ken Research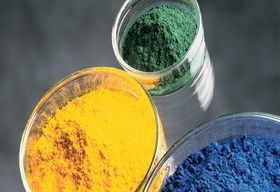 The report also covers country snapshot of China, India, US, Brazil, UK and Germany pigment market including market overview and market size and future projections, market segmentation by type of pigments; current and future projections, market segmentation by application; current and future projections and market competition landscape. The report also provides a holistic view of the overall chemicals market, value chain analysis in global pigments market and challenges faced by entities in value chain. The report also covers the parameter of competition among leading players of the market, global pigments market heat map, company profile of major players (DIC Corporation, Clariant, Meghmani Organics, Sudarshan Chemicals, JECO Group Ltd, Lomon Billions, Lilly Group, BASF, and Tronox).
The report also includes trends and developments, pigment suppliers directory, Latest Products Launched by Leading Pigment Manufacturers, PESTEL analysis, porter five forces analysis, trade scenario, REACH regulations and registration process, and snapshot on global carbon black market. The report also includes future projection for global pigments, future projections by type of pigments, by type of inorganic pigments, by type of organic pigments, future projection by application, future projections by market structure, future projections by region and future projection by country. The report concludes with analyst recommendations highlighting the major opportunities and cautions for overall global pigments market. The report is useful for manufacturers of pigments, intermediaries and raw material suppliers to align their market centric strategies according to ongoing and expected trends in the future.
Global Pigment Market Size
In terms of revenue, the global pigments market has registered a constant growth with positive CAGR in last five years (2012-2017). Region wise, APAC has been the largest producer followed by the Americas, Europe and Rest of the World (RoW).
Country wise, China has been the largest producer followed by US, India, Germany, UK and Brazil. Strict implementation of environmental regulations has affected the global commodity pricing of many products. Big players in the ecosystem have invested in developing newer products with environmental, manufacturing and cost sustainability in order to broaden their product portfolio.

Global Pigment Market Segmentation

By Type of Pigments: The sales of inorganic pigments dominated the global pigment market in 2017. China was the largest consumer for inorganic pigments followed by US, India other European, Asian and CIS countries. The organic pigments market performance is parallel to the development of the various coatings market segments plus additional effects like color trend and replacement of lead chromates mainly in emerging markets.

By Application: The paints & coatings industry dominated the global pigment market. Applications such as architectural and refinishing, aerospace, automobile, furniture, decorative, industrial maintenance are the major application sectors for paints. Paints & Coatings was followed by plastic industry, Printing Inks, Construction and Others.

By Region: The global pigments market has been dominated by the APAC region. In contrast to the APAC region the pigment industry in North American and European countries has reached a mature status. Following Europe are the Middle Eastern and African countries.

By Organized & Unorganized: The global pigment industry is dominated by presence of organized players. These players have well established production plants spread across the globe while the unorganized manufacturers usually have a limited number of products, which are customized to cater the demand of only a few industries or the local market requirement.

Global Pigments Market Future Outlook and Projections

The global pigment industry is expected to grow with a positive CAGR from 2018-2022. APAC region will continue to lead the global pigment market in the future owing to the expected strong growth of the pigment industry in China and India. Robust growth in end users industries such as paints & coatings, plastic, printing ink, construction and other industry will drive the global demand for pigments. The paints & coatings industry is likely to be the major application for pigments owing to rising construction market worldwide. Apart from China and India, the production and export of pigments from other Asia Pacific Countries is also likely to increase.

Key Segments Covered

By Type of Pigment, By Inorganic Pigments (Titanium Dioxide, Iron Oxide, Chrome Based and Others),Organic Pigments (Azo, Phthalocyanine & HPP),By Type of Market Structure, Organized Market, Unorganized Market, By Type of End User Application, Paints & Coatings, Plastics, Construction, Printing Inks ,Others

By Region

APAC,Americas,Europe,Rest of the World

Key Target Audience

Pigment Manufacturers, Pigment Intermediaries Manu facturers, Major Importers and Exporters of Pigment ,Private Equity Ventures
Time Period Captured in the Report
2012-2017 - Historical Period
2017-2022 - Future Forecast

Pigment Manufacturing Companies

DIC Corporation, Clariant, Meghmani Organics, Sudarshan Chemicals, JECO Group Ltd, Lomon Billions, Lilly Group, BASF, and Tronox