How A Pandemic Affects The Human Resource Development
Debyani believes that being a good human being is the most important thing that matters at the end of the day that does not discount command over knowledge, confidence to speak your mind and being transparent.
COVID has impacted us in a big way and we yet have to see the full scale of it. It has impacted us both professionally and personally. RBI almost declared recession in India which impacts all industries, across grades. As our industry (IT) is a part of this ecosystem, the entire equation of demand and supply has affected it too. However, we are proud of the fact that we were very agile in managing the situation of COVID and did not lose a single day of productivity. We acknowledge the fact that skills without enhancement will be obsolete. Our journey till date has been smooth due to the steps and measures we took for skill enhancement to work in the new normal.
Even though it is sometimes difficult to cope up with such rapid change, it is the need of the hour, and we reformed our processes to cope with the situation
In Today's Changing Scenario
In my opinion, a top employer is one who takes care of employees in difficult times. Organizations need to take care of their employees professionally, physically & mentally by balancing the productivity factors and human factors. Crisis situations are a test for the organizations as it is during these times that the values of the organization are put to test and it takes a lot of grit and perseverance to sail through.
The topmost skill in today's environment is agility. How agile one is to adopt a change be it technology, domain or anything which is new to try. Jobseekers should be open for areas, adopt more agility and they should put the thoughts towards application of the theories learnt. This also serves as a reflection of the attitude and openness of the job seeker.
We being in the IT industry, we cannot afford to be left behind in technology. The world scenario has changed and it is technology that has helped us cope and stay connected. Even though it is some times difficult to cope up with such rapid change, it is the need of the hour, and we reformed our processes to cope with the situation. The focus on technological R& D and going in-depth for the implementation towards automation is a requirement to survive.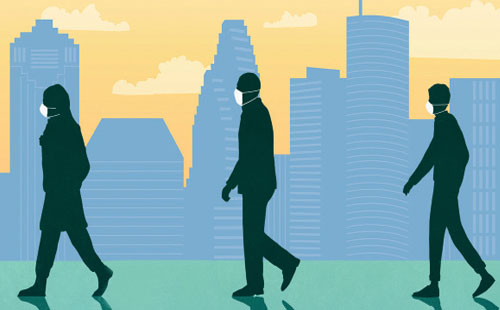 Intimidation Of Job Insecurity
I feel none of the jobs will be absolutely obsolete. However, retail segment may get a huge hit. Any change at a large scale brings a shift in the economic landscape. There will be segments where the demand will go up and there will be segments where the demand may go down drastically.
Agility towards adoption of technology, design thinking and innovation will gain mileage. Emerging technologies like analytics and IoT (Internet of Things) will gain prominence as connectivity gains more importance. Virtual working will be more prevalent and that will further need more collaboration tools, AR and VR.
Courses That Job Seekers Can Pursue
There is no 'One size fits all' course that can be recommended. One has to be aware of one's strengths and pursue to further it into their profession. One thing I would suggest is to work on being innovative in the area as continuous advancement is always in demand what ever the field. Awareness of the environment and acting as per the situation is the only skill which will stand out in the days to come.
People are an integral part of any business and while machines can take over the mundane jobs, one thing that only our human resources can bring in is innovation & creativity. There is no course for it, it needs to be developed along with knowledge and applied.
Leaders & Students In New Normal
Leaders or students, each of us need to understand the implementation of the theoretical knowledge and ideas we generate. Moreover, any person is critical to the point, the value addition they bring in to the organization, in business or anywhere.