The Hospitality Industry CIO's Challenge & Opportunity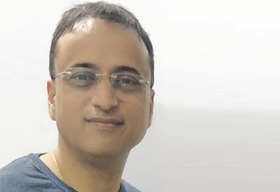 Headquartered in Udaipur, HRH Group of Hotels is one of India's largest chain of heritage palace-hotels and resorts offering regal experiences in island-palaces, museums, galleries, car collections, and much more.
Hospitality CIOs Perspectives & Their Readiness
This Article covers how Technology will impact the hospitality industry by 2030 where the formula for success in this industry would be 'Embracing Technology' and making it a face of your business where CIO has to play a greater role:
Though technology is an integral part of any Hotel operation from the last three decades. Tremendous change, disruption, and innovation have been noticed in Hospitality Technologies. The intensity of the same is very high in the recent past because of the advent of various automation and technology oriented process mapping.
Hotel's Information Technology arm, IT Department was earlier a back office department where IT had to run and support business from backend. Now it seems a frontend department which is highly responsible for business operations, customer acquisition/retention and its success, highly impacting revenues and cost optimizations and its related KPIs. With the advent of following continue; the value kept adding in IT portfolio in hospitality industry:
1. Internet-of-Things
2. Artificial Intelligence/Big Data/Robotics/Industry
4.0 revolution
3. Machine Learning,
4. Importance and Consumption of API (ApplicationProgramme Interface)
5. Blockchain
6. Other Technologies impacting Hotel Industry
It seems that more technologies will be infused in hospitality business in the coming decade and giving below detailed touch points where Hospitality industry would be embracing the technology for efficiency to continue increase and cost to optimize.
1. Internet-of-Things
The IoT and sustainable hospitality where the key areas to implement would be Energy management functions, hotel operation services to gain Operational efficiency, improved customer services are the main advantage by IoT implementation in hospitality. IoT Innovations in Hospitality Industry:
a) Auto Check-in:
Evident innovation would be smartphone-enabled and automated check-in service. When aguest is nearby to the hotel, the Smartphone's app could automatically send a message to the hotel alerting them of the arrival, and check-in would be spontaneous and transparent.
Such an innovation would be more convenient for the guest and would save costs for the Hotels.

b)IoT Enabling Efficient HVAC System: Huge cost savings by auto alerts of energy consumptions and predictive maintenance.

c)IoT Enabled Door Locks: It would be more secure and most appropriate for future cost saving and analysis of guest movement in/out of the property.

Hotels use AI to go beyond just the customer experience. By utilizing powerful, artificially intelligent software, hotels can even capture information on potential customer purchases, their location preferences, and frequent travel patterns.

d. Acceptance of Robots in Hotels: Robots assists the front desk by picking up and delivering guest amenities, moving linen and towels from laundry to Guest rooms, fitness centers and more.

3. Machine learning Importance in Hotels and Its Adoption Process
ML is widely used in revenue management technologies where demand forecast and supply availability factors are well determined and predicted.

The optimum utilization of hotel resources are planned using big data based on ML algorithms which encompasses with understanding relationship v/s demand and prices, that ultimately formulates revenue strategy.

4. The importance of API in Hotel Industry
Hospitality industry is known for its early adoption of APIs and its related innovations. The APIs plays very important role in connecting and communicating between PMS, POS, MMS, RMS, GDS, and CM(Channel Manager). Today API is playing a powerful role in connecting hotel systems with various online travel portals for reservation services, guest reviews, feedback, guest complaint management, payment process, loyalty data, Wi-Fi access. Guest information keep traveling through various system/sub-systems by using various API to create a satisfactory pool for all guest services without which it is impossible to serve today's Guest.

5. Blockchain for Hospitality Industry
The Hospitality and travel industry may have more intermediaries than any other sector, and therefore Blockchain technology will likely have a fore most disruptive impact on the way travel suppliers and mediators conduct business.

It is certainly that blockchain technology is self-assured to influence processes and roles across the travel ecosystem from maintaining Transparency, complex contract settlement, connect vendors for more loyalty based strategic approach by hoteliers, reduced fraud by showing the identities in deals, IoT can be used for Asset Tracking like guest luggage's, it will prevent from over booking having transparent ledgers across the globe, industry can introduce better policy frame working having block chain data in hand.

Blockchain could considerably enhance financial books and accounting for travel companies, which have complex ledgers to track the booking and payments to settle in multiple currencies and countries across the Globe.

6. Other Technologies Impacting Hotel Industry
Technology is playing paramount importance in order to ensure 'Hotel's Security' by enabling Geo fencing, iBeacon, location based services and mobile credential.

Personal data privacy and identity is prime concern for hotel industry and much reliant on IT operations and best practices to follow. The security aspects have to be addressed by expert consultant of InfoSec and Cyber security agencies. Other emerging tech-trends are Virtual Reality & Augmented reality.

All these bringing IT on the centre space and role of CIO/Head-IT is increasing day-by-day. The IT head has to play multiple role of Business Manager, Hotel Operation Manager, Procurement and Cyber Security, Revenue and Cost optimization process manager.

The belief is very near to have strong acceptance that the future of Hospitality is Technology so the formula discussed on various industrial forums and research organization is 'Future=Technology' at Hospitality industry